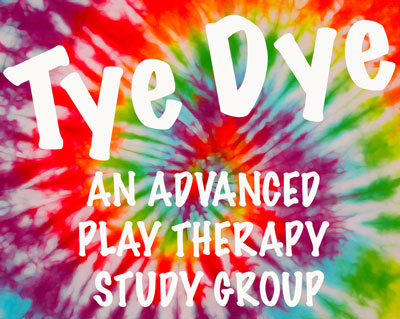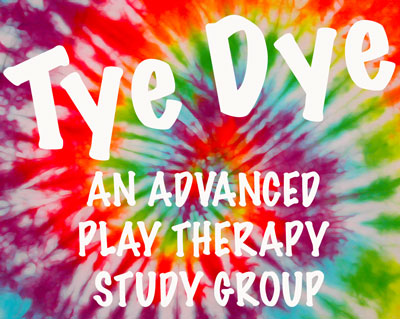 Tye Dye 2022
The Sounds of Safety and Applications of Polyvagal Theory in the Playroom
It was a wonderful weekend of "peer to peer" sharing of theory and practice. There were 5 presenters in addition to Music Therapist Jennifer Buchanan on Thursday, October 20th for a full day. This year we studied the applications of Polyvagal theory in the playroom and discussed what to look for regarding the hierarchical states of ventral vagal, sympathetic and Dorsal vagal responses in children. We discussed how to intervene and looked at the directiveness and consciousness in play therapy and therapeutic use of self.
There is no Tye Dye without a play therapy song written by Bruce Beaudet! This year's song was entitled "Ventral Vagal Feeling" sung to the Eagles "Peaceful Easy Feeling" and accompanied by Joni Stryde on guitar. Bruce wrote a second song called "Toy Bin Alley" written to the music of Stevie Ray Vaughn and "Tin Pan Alley". Joni advised Bruce that he needed to consult with her before writing lyrics to very difficult songs!
We tye dyed our hearts out… and dyed tote bags and sock puppets! The puppets were a lot of fun and allowed tye dyers to allow their creative selves to shine. We enjoyed yoga, use of song and voice, use of self expression, creativity and a lot of good home-made food.
Val Kendall was remembered and honoured at the 2022 Dye Dye. Val was a long-term supporter of RMPTI and of Tye Dye. She will be dearly missed.
Overall participants left with a solid feeling of rejuvenation and recovery from the year of hard clinical work. It with gratitude that such a skilled and dedicated group of therapists return year after year to join in learning and in connections and community. Until we meet again in 2023!
 Tye Dye 2021 - A Glimpse at the Events
Exploring Diversity in Play Therapy
Creating Together!
Clay spirit animals, Tye Dye, Reverse Tye Dye, African Beading, and Art Making.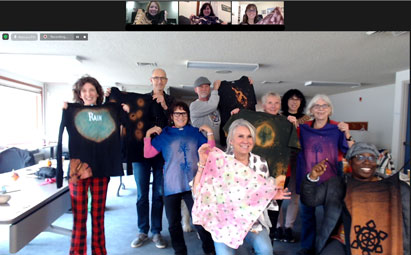 Everyone together again!
Sharing and growing in our experiences with Diversity.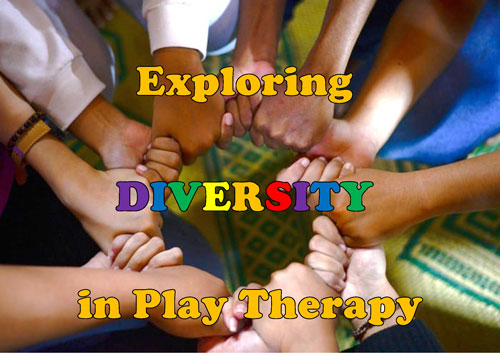 Exploring Diversity in Play Therapy
A Day of Intercultural Learning at the Canmore Nordic Centre or join online
Play Therapy and the Indigenous Child
Georgina Henderson, Registered Provisional Psychologist
Play therapy is a psychotherapeutic approach primarily used to help the Indigenous child explore his/her life and freely express repressed thoughts and emotions through play in a culturally safe, respectful, and welcoming setting that honors the uniqueness of the child. Come and learn of the history of Indigenous people in Canada and the present-day impact and how to mindfully navigate counselling from a holistic perspective while honoring the scared grandfather teachings and building an understanding of concepts, terms and knowledge to support the advancement of Truth and Reconciliation in a play therapy setting. The Medicine Wheel teachings will be explored, and participants will have the opportunity to craft a piece that speaks to their heart and resonates with their being.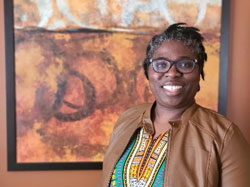 Africa in Wonderland; Play Therapy with 'Black' Children in Canada
Mercy Yeboah-Ampadu, PhD, RSW
In in this session you will learn about working with communities of colour through playful connection to African traditions, culture, language and art. This playful session will explore cultural considerations when practicing play therapy with children within Canada's 'Black' communities. Learn how to connect not just with children through play but with their families too.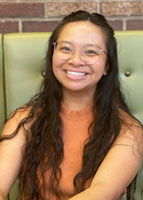 Beyond the Rainbow: Increasing Gender Sensitivity in Play Therapy
Abigail Ellazar, MS Psych.
Beyond the Rainbow is a presentation aiming to increase therapist's gender sensitivity in Play Therapy. In this presentation we identify the most common gender identities as of 2021 and how therapists could be more sensitive to these identities. Creating a safe space for clients is highlighted in this talk as we highlight gender identity in the playroom including what symbols to look for, toys one should have present, activities that can be done, and verbiage to be used. Beyond the Rainbow aims to arm therapists with the tools needed to face diversity in Play Therapy. We explore, acknowledge, and break through our own biases as therapists to fully immerse ourselves in the therapeutic relationship.
---
Tye Dye is an annual retreat event with the intent of delving into important topics related to Play Therapy. The main goal of this group is to forward the practice of Play Therapy in day-to-day practice and to contribute to the play therapy literature. Those trained in any number of theoretical approaches to play therapy are welcome as the program is based on an integrative play therapy approach, and the Play Therapy Dimensions Model, to conceptualizing play therapy practice and decision-making. The Tye Dye study-group is limited to RMPTI alumni.
Group Structure
The Tye Dye study group follows a special format. It is not a series of workshops that people wander in and out of. It is peers presenting to peers and focuses on sharing of interventions, special issues, case examples and theory. It is a time to get together and to discuss topics and create new ideas. It is a time to stay together and to engage in games and fun.
We welcome all alumni for a global study group reunion.
Review of Tye Dye: 

1st International Play Therapy Study Group in Canada - November 2016
This was the 1st Annual Tye Dye International Play Therapy Study Group held at the George Town Inn in Canmore Alberta. This annual event is meant to bring play therapists together from around the world to study and play together. The purpose is so that we can deepen our understanding of the many types of play therapy and the substantive issues that overlay on the ways in which we work with children and youth. It is our hope at Rocky Mountain Play Therapy Institute that we could encourage people to contribute back to the literature so there may be publishing opportunities that come from attending the Study Group.
Tye Dye… why the name?
This unique name was suggested by a former Green and Red Stream participant, Bruce Beaudet. The logical connection of the name Tye Dye to RMPTI is to do with the fact that once you finish Green, Red, Yellow and Blue Stream programs… what do you have? Tye Dye! Having a study group in Canada was always a dream for Ken and I, but when we had a group of very dedicated students after Red Stream a year ago who said "What next? We don't want to leave or stop growing", we thought, ok, it is time for the Study Group and then … Tye Dye was born!
The Tye Dye study group follows a special format. It is not a series of workshops that people wander in and out of. It is peers presenting to peers and focusses on sharing of interventions, special issues, case examples and theory. It is a time to get together and to discuss topics and create new ideas. It is a time to stay together and to engage in games and fun in the evening.
For our first year, there were 4 presentations provided by Ken and Lorri, Irene Barrett, Cassandra White, Adrianna Sorbo and a special presentation by Shari Roth on Children and Yoga Practice. There were 13 of us in all for the first year and this smaller group was a wonderful experience. People came from Whitehorse, St. John NB, New Jersey, Calgary, Red Deer, and Edmonton to name a few. We hope to continue to draw people from around the globe.
We ended the first Annual Tye Dye with an invitation to the group to join in our new book that will be related to Turning Points in Play Therapy and the Development of Self. The group will divide into 2 and write about "what gets in the way" of turning point during the process of play therapy.
2017
Special workshop presentation: Partnering with Families
Special Workshop: Adlerian Play Therapy – Strengthening partnerships & vitalizing relationships with Dr. Terry Kottman
Terry presented a 2-day (pre-study Tye Dye Group) workshop, "Adlerian Play Therapy: Partners in Play," on November 2nd-to-3rd (in Calgary).  Tye Dye study group participants received a 15% discount for attending the 2-day workshop. Terry also presented a special topic workshop presentation at Tye Dye on "partnering with families."
2018
The featured topic for 2018 was - Exploring Creativity in the Play Therapy Process.
Prior to the Study Group RMPTI hosted a 3-day Supervision Training  and  a special half-day workshop on Expanding your creative skills – psychodrama and play therapy.
2019
The featured topic for 2019 was The Use of Therapeutic Stories in Play Therapy: Timing, Delivery and Therapeutic Potency.
Special Workshop: Fundamentals and Applications of Adlerian Play Therapy with Dr. Terry Kottman
2020
The featured topic for 2020 was Expressive Activities in Play Therapy: What are Children Showing and Telling Us?
Special Workshop: Integrating Expressive Arts into Play Therapy: Applications from Self to Client with Carmen Richardson MSW, RSW, RCAT, REAT
2021
The featured topic: Exploring Diversity in Play Therapy 
Special Workshop: Exploring Diversity in Play Therapy with three topics:
Play Therapy and the Indigenous Child

Africa in Wonderland; Play Therapy with 'Black' Children in Canada

Beyond the Rainbow: Increasing Gender Sensitivity in Play Therapy
2022
Featured topic: The Sounds of Safety and Applications of Polyvagal Theory in the Playroom
Special Workshop: The Sounds of Safety with Jennifer Buchanan, MBA MTA
Program:
Polyvagal Theory, let's play - presented by Ann Reilly, MSW, RSW, RPT-S, CPT-S
Animal Assisted Play Therapy and Application of Polyvagal Theory and Principles in working with Children with Developmental Trauma presented by Lisa Evens, MEd, R. Psychologist, RPT-S, Certified Animal Assisted Play Therapist
Do you see me? Do you hear me? Do you give a hoot? Presented by Nana Aisha, MSW TPP