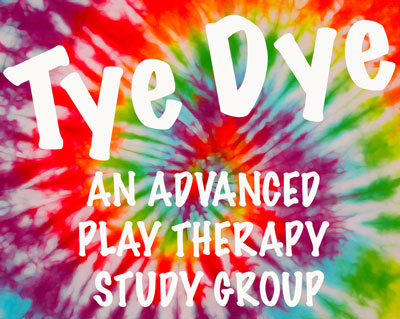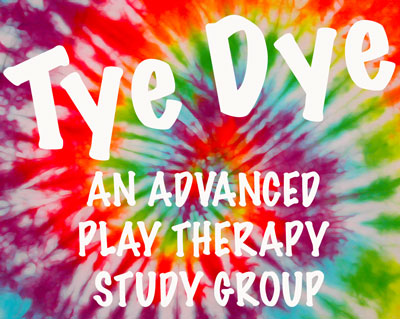 Tye Dye is an annual retreat event with the intent of delving into important topics related to Play Therapy. The main goal of this group is to forward the practice of Play Therapy in day-to-day practice and to contribute to the play therapy literature. Those trained in any number of theoretical approaches to play therapy are welcome as the program is based on an integrative play therapy approach, and the Play Therapy Dimensions Model, to conceptualizing play therapy practice and decision-making. The Tye Dye study-group is limited to RMPTI alumni.
The Tye Dye study group follows a special format. It is not a series of workshops that people wander in and out of. It is peers presenting to peers and focuses on sharing of interventions, special issues, case examples and theory. It is a time to get together and to discuss topics and create new ideas. It is a time to stay together and to engage in games and fun.
We welcome all alumni for a global study group reunion.
8TH ANNUAL TYE DYE PLAY THERAPY STUDY GROUP
TYE DYE TOPIC: PLAY THERAPISTS WORKING WITH EXTERNAL AND INTERNAL FAMILY SYSTEMS
Tye Dye 2023 - October 20, 21, & 22, 2023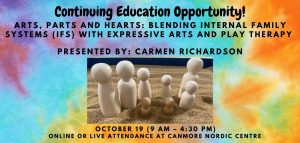 One Day Workshop - Thursday, October 19, 2023: Arts, Parts and Hearts: Blending Internal Family Systems (IFS) with Expressive Arts in Play Therapy
Presented by Carmen Richardson MSW, RSW, RCAT, REAT
WHEN: OCTOBER 19 (THURSDAY: 9 AM – 4:30 PM)
WHERE: ONLINE OR LIVE ATTENDANCE AT CANMORE NORDIC CENTRE
Cost = $280 (plus GST for Canadians)
---
*Register for the workshop on it's own OR in combination with the Tye Dye Program
---
Three Day Tye Dye - School and Family Systems: What are we doing? Creative Ideas for Play-based Interventions and Third-Party Feedback in Play Therapy Practice
Eigth Annual International Play Therapy Study Group
Friday to Sunday, October 20-22, 2023
LIVE attendance at Canmore Nordic Centre - no REMOTE/ONLINE attendance
Cost = $795 (plus GST for Canadians)   Accommodation extra.
Limited space available. Applicants will be accepted on a first come first serve basis.