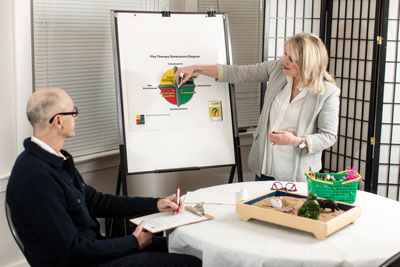 Below is a list of RMPTI approved Supervisors along with a short bio to allow you to find the supervisor right for you!
Please let us know in your application for supervision if you have a preference in Supervisor.
Cost for Supervision are as follows:
New General Supervisors:
Individual Supervision - $180/session
Paired Supervision - $200/session
Group Supervision - $150/session (Minimum of 4 people)
Advanced Supervisors
Individual Supervision - $190/session
Paired Supervision - $220/session
Group Supervision - $150/session (Minimum of 4 people
Group Supervision Package - $750/ person for 5 sessions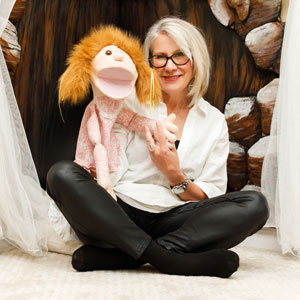 Advanced Supervisor and Supervisory Supervisor: Lorri A Yasenik  (PhD, RSW, RPT-S, CPT-S)

Lorri Yasenik  is the Director of Rocky Mountain Play Therapy Institute and the Co-director of the International Centre for Children and Family Law (ICCFL) in Australia/Canada. Lorri is a Registered and Certified Supervisor of Child Psychotherapy and Play Therapy and delivers approved training programs nationally and internationally in the areas of child and play therapy, play therapy supervision and child inclusive practice in the family law sectors. Lorri has expertise working with treatment of trauma, separation and divorce, children's adjustment and developmental issues and a range of other presenting problems for impacting children and youth. Lorri is the co-author of the books Play Therapy Dimensions Model: A Decision-Making Guide for Integrative Play Therapists and Turning Points in Play Therapy and the Emergence of Self: Applications of the Play Therapy Dimensions Model. In addition, Lorri has authored and co-authored 12 chapters and peer reviewed articles in the areas of play therapy supervision, play therapy practice, play therapy case conceptualization, children's voices and children and family law. Lorri currently sits on Deakin University Advisory Board for the Child Play Masters Degree Program.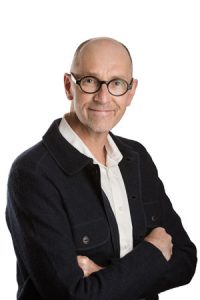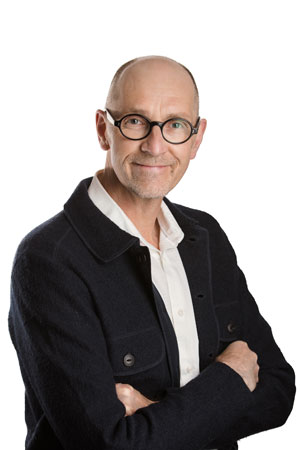 Advanced Supervisor: Ken Gardner - CPT-S (Advanced Supervisor for CAPT only)

Ken is a Registered Psychologist with a background in clinical, school and community psychology. He has been practicing as a Psychologist since 1989, as a Certified Child Play Therapist since 1999, and as a Certified Child Play Therapist Supervisor since 2008.
Ken specializes in the areas of play therapy for children with developmental, emotional and behavioral concerns. Ken also has many years of experience in conducting educational evaluations for students experiencing learning and/or developmental difficulties. His practice areas include childhood adjustment issues related to depression, anxiety, attachment, and emotion regulation.
As the former co-director of the Rocky Mountain Play Therapy Institute (RMPTI) Ken has extensive experience as a consultant and trainer in the field of Child and Play Therapy, both nationally and internationally. Ken is a past executive board member of the Canadian Association for Child and Play Therapy (CAPT), the Alberta Play Therapy Association (APTA), and the Calgary SCOPE Society. In 2011 Ken was presented the Monica Hebert Award for his contribution and dedication to Play Therapy in Canada.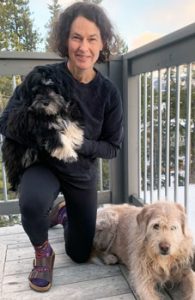 General Supervisor: Lisa Evans, RPT-S

Lisa is a Registered Psychologist, Registered Play Therapist Supervisor (RPT-S), Certified Animal Assisted Play Therapist, and a trainer in the Neuro-Sequential Model of Therapeutics (NMT/NME). She lives in the beautiful wilderness city of Whitehorse, in Yukon, Canada, and has been working with children and families for over 25 years, both as a Vice Principal/School Counsellor, and in private practice.
Lisa has spent much of her career helping children heal from trauma through play therapy, and more recently has added Animal Assisted Play Therapy. Lisa completed her certification as an Animal Assisted Play Therapist with the International Institute of Animal Assisted Play Therapy (IIAAPT). Lisa and her dog Luna have been therapeutic partners since 2017. Recently little Stella has joined the therapeutic team. Lisa enjoys spending her leisure time running, mountain biking, skiing, and hiking in the beautiful wilderness of the Yukon.
General Supervisor: Leona Corniere, RPT-S

Leona is a registered psychologist and registered play therapist-supervisor, working predominately with children from birth through the elementary school years in Whitehorse, Yukon. Leona has taken most of her play therapy training through the Rocky Mountain Play Therapy Institute. She has completed her foundational and advanced training in EMDR from Annie Monaco and Anne Beckley Forest who wrote the book, "EMDR with Children in the Play Therapy Room; An Integrated Approach" and she is currently completing her supervision hours for EMDR certification.
In addition to her work with children and their parents/caregivers, Leona provides clinical consultation/supervision to therapists working with children in the areas of therapeutic play/play therapy and counselling. She completed the Blue Stream course with RMPTI, as well as, "Advanced Clinical Supervision in Psychology" with the University of Calgary. Leona also supervised numerous provisional psychologists completing their registration with the College of Alberta Psychologists.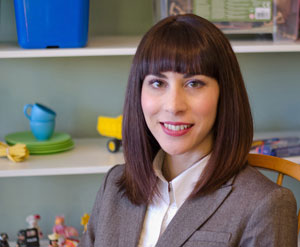 General Supervisor: Adriana Sorbo, MA, R. Psych. RPT
Adriana is a registered psychologist with the College of Alberta Psychologists and a registered play therapist with the Association for Play Therapy. Adriana has worked in the area of child and adolescent mental health for over 10 years in numerous settings including non-profit counselling centres, mental health services and private practice. Adriana is currently the owner of a private practice in Calgary where she works with children and their families from a developmental, trauma-informed and attachment-based integrative play therapy lens and where she brings play into her role as a clinical supervisor. Adriana recently co-authored a chapter in an edited book on play therapy process. Adriana spends as much time as possible playing on her yoga mat, in the snow, in her garden, in the trees and with her child.