RMPTI
Play Therapy Training 
Certified & Registered Play Therapy Trainers

APT Approved Provider 06-179

CAPT Approved Provider 09-104

Internationally recognized

Established in 1998
NOTICE TO STUDENTS REGARDING TRAINING SCHEDULES
AND PRACTICES DURING THE COVID-19 OUTBREAK
For public health and safety reasons, Spring training for this year is postponed. Summer training may also be postponed and rescheduled. Decisions will be forthcoming as we await further information from Health Canada regarding social distancing policies and requirements. Our primary focus is to ensure a safe and healthy learning environment for everyone.
If training dates are rescheduled, based on the directions/advice of Health Canada, a full refund will be offered to students who are  unable to attend the rescheduled training dates. Those of you registered in a training program will receive an e-mail notification of changes in dates, once these become available. Revised dates will also be posted on our website.
We are including the following information to help you in your practice. These videos and handouts are a possible resource for children and families, but please consider viewing them first to ensure that they are appropriate in terms of the amount/type of information.
Helpful Links:
Please Explain Coronavirus To Me: A Video for Kids
How to Talk About Coronavirus With Kids 
Coronavirus Hand-out for Children
Here are additional links/tips on cleaning your sandtrays and playrooms:
Proper Cleaning Procedure for Sand Trays & Sand | Part 1
Based on what may become the "new normal,"  the directors are busy exploring telepractice and treatment practices for working remotely with children - further details will be announced. Currently, there are various online teleplay training programs that offer helpful, initial engagement strategies. RMPTI is working on training material to address the play therapy process in a more in-depth manner via teleplay.
We strongly advise all students/practitioners to check with their registration/college to confirm protocol and confidentiality surrounding telehealth practices before incorporating teleplay in your practice. Please note that specific client consent is required prior to offering teleplay services.

A new book from RMPTI
Turning Points in Play Therapy and the Emergence of Self: Applications of the Play Therapy Dimensions Model
by Lorri Yasenik (Editor), Ken Gardner (Editor)
Effective clinical practice requires a thorough understanding of how turning points surface in the play therapy process. These moments can indicate a change in a child's thought or behaviour. The play therapist is the facilitator of these moments and this book will provide guidance on how they can promote these moments.
This edited collection demonstrates successful implementation of the author's proven Play Therapy Dimensions Model. Each chapter uses this framework, as well as other theories, to discuss the markers that can reflect shifts and growth in a child's development. Full of applied guidance, this book will prove to be invaluable for practitioners, instructors and students. Purchase it here.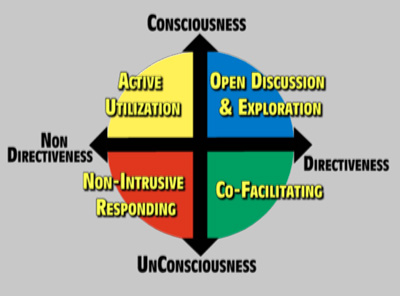 Learn from the internationally recognized authors of the Play Therapy Dimensions Model
Uniquely designed programs provide practical skill development
Access to fully equipped play therapy rooms
A full spectrum of training programs: From introductory and special topic workshops to a fully integrated program for play therapy training
Note: The registration bodies (CAPT and APT) alone hold the right to accept or deny any continuing education training at their discretion.