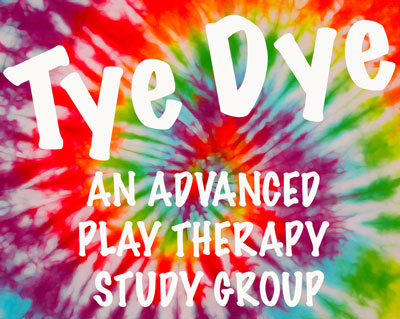 Tye Dye: Advanced Play Therapy Study Group
Tye Dye is held yearly and follows-up on important topics related to Play Therapy. Those trained in any number of theoretical approaches to play therapy are welcome as the program will based on an Integrative Play Therapy Model and the Play Therapy Dimensions Model to conceptualizing play therapy practice and decision-making. The program is limited to 25 participants and will focus on a special topic each year.

Third Annual Tye Dye Play Therapy Study Group
November 3 and 4th, 2018.
George Town Inn, Canmore Alberta
The featured topic for 2018 is - Advanced Play Therapy Techniques: Therapeutic Potency and Therapist Use of Self.
Prior to the Study Group RMPTI will be hosting a 3-day Supervision Training (October 30, 31 and November 1st) in Calgary. RMPTI will also host a special half-day workshop on Playful Supervision Concepts Utilizing Play Therapy and Drama Techniques on November 2nd 2018.
Tye Dye Participants are encouraged to attend both programs and will receive a 20% discount on the half-day workshop.
---