Green Stream: Certificate in Therapeutic Play Skills
Play Therapist: Certification/Registration Route
The Green Stream–Foundations of Play Therapy is a certificate in therapeutic play skills that offers 75 hours of approved/certified training. It consists of 9 days of face-to-face training (63 contact hours of approved play therapy training), plus a pre-course on-line component (with a Mastery Test) and a post-course case conceptualization assignment (totaling 12 non-contact hours). Students will have three months to complete the required written assignment.
The Green Stream Foundations of Play Therapy Program is a fully integrated training program, versus a series of workshops or courses. It is ideal for those currently in post-secondary or graduate programs, or graduate/mental health practitioners who wish to build on their current professional designations. You do not require a Master's degree to complete the Foundations of Play Therapy Program.

 You may stop your training here and obtain a Certificate in Therapeutic Play Skills.
Note: In North America there are two routes to choose from. The APT route is shorter in terms of training, supervision and practice hours, and gains access to a large internationally recognized professional organization.

APT Route: To become a Registered Play Therapist (RPT) with the Association of Play Therapy (APT) one of the requirements is to complete 150 hours of approved training in play therapy. The Green Stream, combined with the Red Stream, provides 150 play therapy training hours.
CAPT Route: To become a Certified Play Therapist (CPT) with the Canadian Association for Play Therapy (CAPT), Canadian standards require 180 hours of play therapy training from a CAPT Approved Provider, or from an institute of higher learning. Participants who intend to become Certified Play Therapists should take the Green Stream, Red Stream +plus , and 1 core (3-day) Yellow Stream Certificate Program. It is recommended that participants take the Yellow Stream Certificate in Sandplay with Special Populations to fulfill the 180-hour requirement.
RMPTI is not a registering body for play therapists. Rather, RMPTI provides approved training. For details for being registered with the 2 main bodies, see links below.
Uniquely designed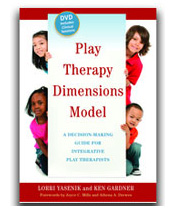 Based on the Play Therapy Dimensions Model, which is an integrative decision-making model for play therapists, participants learn not only a range of play therapy theories, approaches and techniques, but also how to conceptualize the play therapy process from an integrative perspective. Emphasis is place on developing skills in tracking client progress and therapist use of self. Participant learning is enhanced through role-plays and use of fully equipped play therapy rooms.
Receive a Certificate in Therapeutic Play Skills
You can stop training at the Green Stream level and receive a Certificate in Therapeutic Play Skills to apply to your work with children in non-clinical settings such as pre-schools and school counseling services. Due to its practical and experiential approach to learning, participants leave the program ready to use therapeutic play-based interventions.
Program Goals
The primary goal of this program is to develop practical skills and theoretical knowledge base necessary to use play-based interventions from an integrative perspective. Additionally, participants learn about:
The history of play therapy
The role of the play therapist
Core play therapy theories/approaches (e.g., Adlerian, Child-Centered & Gestalt Play Therapy)
Play therapy techniques
Play therapy modalities (e.g., sandplay, art making; music & movement)
The play therapy process
Ethics
Play-based observation and treatment planning strategies
Cost
$2250.00 plus GST (550.00 deposit). For full details please refer to the application form. To access program dates see the training calendar.
Who Should Attend?
The Green Stream, Foundations of Play Therapy program will be of interest to those individuals who are currently working with children in a number of capacities such as teachers, youth and child care counselors, social service workers, early childhood educators, health care providers, therapists or other professionals who wish to enhance their skills when working with children. Those enrolled in post-secondary institutions or graduate programs may use this program as a way to build on their current professional designations.
Entrance Requirements: Attending or completed post-secondary education.
Assigned Text Books:
Play therapy dimensions model: A decision-making guide for integrative play therapists (Yasenik & Gardner, 2012 – 2nd edition; Jessica Kingsley Publishers, London).
NOTE: This book, which includes a 1-hour DVD, is provided free to all course participants.
Play therapy: The art of the relationship (Gary Landreth; 2012; 3rd edition; Routledge, Ney York).
How can I apply these skills?
Participants will be able to follow a basic case conceptualization process and identify ways to work with children with mild to moderate adjustment difficulties. They may use specific play techniques in their own settings and identify children who are in need of play therapy and make appropriate referrals to a Certified Play Therapist.
PROGRAM OUTLINE
Pre-course:
On-Line Component (7 non-contact hours): An Introduction to Play Therapy
Two months prior to the course date, registered participants will be provided with a passcode for the RMPTI training website (www.rmpti.org), where they take a 3-hour on-line program. The on-line program provides an introduction to the following topics and activities:
Introduction to program
Defining Play Therapy and the play therapy continuum
Therapeutic powers of play
Play modalities
History of play therapy
Self-assessment and experiential exercises
Participants should simultaneously begin reading the two assigned textbooks, Play Therapy Dimensions Model: A Decision-Making Guide for Integrative play Therapists (Yasenik & Gardner, 2nd edition, 2012) and, Play Therapy: The art of the relationship (Gary Landreth, 3rd edition, 2012).
At the end of the on-line section participants are to complete a mastery test (true/false) to demonstrate understanding or core concepts covered on-line and in the textbooks. The Mastery Test is to be handed in on the first day of class.
Day 1: Understanding the play therapy process & essential play therapy skills
Program Introduction & opening activity
Experiential/self-reflection activity
Understanding neurobiology of play
Experiential activity – "Your Play Style"
Therapeutic powers of play
The therapeutic play continuum
Defining Play Therapy
Understanding the play therapy process: From intake to discharge
Play Therapy Dimensions Model (an integrative model for conceptualizing directive and non-directive work)
Models of play therapy (video examples); Non-Directive & Child-Centered
Experiential exercise – tracking & reflection skills
Play modality: Clay
Day 2: Exploring Models of Play Therapy
Categories of play activity- video examples & learning activities
A detailed examination of the PTDM – understanding the 4 quadrants
Models of play therapy – a historical & current perspectives
Comparative analyses of models – the "grid" worksheet
Model – Relationship Play Therapy (C. Moustakas): Video example
Model – Gestalt Play Therapy (V. Oaklander): Video example
Experiential learning activity: projective drawings
Play modality: Expressive Art
Self-assessment (homework activity)
Day 3: Symbols & Metaphors:
Review of Self-Assessment
Understanding symbols & metaphors
Experiential learning activity – from symbols to metaphors
Developing a relationship with the play room (experiential exercise in play therapy rooms) Stages of symbolic play
Model of Play Therapy – Ecosystemic (K. O'Connor)
Model of Play Therapy – Adlerian (T. Kottman): Video example
Play modality: Expressive art activities
Day 4: Understanding the Directiveness Dimension
The play therapy process & case conceptualization along the Directiveness dimension
Practice exercises; Acknowledging non-verbal behavior; reflection of content & feeling
Experiential activity: Moving from Quadrant III to Quadrant IV
Play & development: A neurobiological perspective
Understanding play themes
Therapeutic Limit Setting: The A-C-T approach (G. Landreth)
Model of Play Therapy – Ericksonian (J. Mills): Video example
Model of Play Therapy – Narrative
Play Modality: Integrating dance & movement
Building a playroom (homework assignment)
Day 5: Play Therapy Process
Review of homework – Building a playroom
Common themes in children's play Examining child moderating factors
Therapist Immersion
Experiential activity- movement from Quadrant III to Quadrant IV
Therapeutic stages in play therapy
Play Modality: Sandplay
Day 6: Play Therapy Conceptualization Tools
Working with caregivers: The review meeting; giving parents feedback
Child moderating factors
Case conceptualization
Play Modality: Therapeutic Storytelling (an "inside-out" perspective based on cognitive neuroscience & interpersonal neurobiology)
Day 7: Children & Trauma
Understanding children's play
Defining trauma
Traumagenic states
Typical vs. maladjusted play: Traumatic play
Video examples
Identifying traumatized children
The psychobiology of trauma
Case examples 
Day 8: Play Therapy Process – Part II
Transference & countertransference
Experiential activity: Creative beginnings, middles and endings in play therapy
Specialized play therapy case notes
Case conceptualization using the PTDM: Case illustration
Play modality: Puppets
Day 9: Play-Based Assessments, Ethics and Professional Guidelines for Play Therapists
Assessment domains
Assessment approaches: structured vs. unstructured observations
5-session screening assessment plan
Summarizing and communicating assessment results
Report writing guidelines
Managing issues of confidentiality when working with child clients
"Who is the client"
Applicable codes of ethics
Experiential learning activity: Case examples for decision-making
Group exercise: ethical dilemmas
Closing activity
Learning Objectives
To provide participants with an introduction to play therapy history, theory, techniques and skills in play therapy. Upon successful completion of the five modules each participant will have gained:
A sound understanding of the therapeutic powers of play and the principles underlying play therapy
An ability to identify at least six different models of play therapy
An understanding of integrative approaches and decision making: awareness of the continuum of directive-nondirectiveness in play therapy
An awareness of the importance child development and play development in play therapy
An understanding of the play therapy process and the role of the play therapist
An ability to structure a play-based assessment to guide treatment planning
Knowledge of the importance of ethical issues for play therapists
Exposure to 6 different play modalities
Awareness of use of self in play therapy
An ability to identify traumatic versus non-traumatic play
Understanding the importance of relationship development in the therapy process
Instructional Methods
Experiential activities
Video presentations
Case examples
Power point slides
Experiential learning through role plays
Session seminars
Reading assignments
Written homework exercises
Small group learning activities
Certificate Award
Participants will receive a Certificate in Therapeutic Play Skills from RMPTI, indicating completion of both the academic and experiential learning components of the Green Stream – Foundations of Play Therapy Program. The certificate confirms the completion of 75 hours of specialized play therapy training approved by APT and CAPT. Training hours can be used toward registration/certification as Play Therapist. APT and CAPT alone hold the right to accept or deny any continuing education training at their discretion.
The Certificate is awarded on the basis of:
Satisfactory completion of a written assignment
Satisfactory attendance (no whole module may be missed unless there are extenuating circumstances. A makeup assignment may be requested depending on time missed)