Red Stream: Advanced Theory and Techniques
Play Therapist: Certification/Registration Route
The Red Stream Advanced Theory and Techniques program provides 75 hours of approved/certified training. The Red Stream program is designed for licensed mental health practitioners, or graduate students enrolled in a graduate mental health degree program or in a pre-licensure supervised placement.
The program consists of 9 days of face-to-face training (63 contact hours or approved play therapy training), plus a pre-course on-line component (with a Mastery Test), and a post-course case conceptualization assignment (totalling 12 non-contact hours). Students will have three months to complete the required written assignment.
As an advanced program, participants must have taken the Green Stream Foundations of Play Therapy program (or equivalent).
Red Stream +plus For those planning to become certified with the Canadian Association for Play Therapy there will be an additional 3 hour on-line program: Integrative Play Therapy – Creating a pathway for working as an integrative play therapist.
Note: In North America there are two routes to choose from. The APT route is shorter in terms of training, supervision and practice hours, and gains access to a large internationally recognized professional organization.

APT Route: To become a Registered Play Therapist (RPT) with the Association of Play Therapy (APT) one of the requirements is to complete 150 hours of approved training in play therapy. The Green Stream, combined with the Red Stream, provides 150 play therapy training hours.
CAPT Route: To become a Certified Play Therapist (CPT) with the Canadian Association for Play Therapy (CAPT), Canadian standards require 180 hours of play therapy training from a CAPT Approved Provider, or from an institute of higher learning. Participants who intend to become Certified Play Therapists should take the Green Stream, Red Stream +plus , and 1 core (3-day) Yellow Stream Certificate Program. It is recommended that participants take the Yellow Stream Certificate in Sandplay with Special Populations to fulfill the 180-hour requirement.
RMPTI is not a registering body for play therapists. Rather, RMPTI provides approved training. For details for being registered with the 2 main bodies, see links below.
Uniquely designed
The Red Stream Program is a fully integrated training program, versus a series of workshops or courses.It is ideal for those currently in graduate programs, or graduate level mental health practitioners who wish to build on their current professional designations.
Emphasis is placed on specialized topics (e.g., family play therapy; group play therapy) and specific referral issues, such as trauma, autism spectrum, depression, and anxiety. Participants have an opportunity to practice skills in fully equipped play therapy rooms.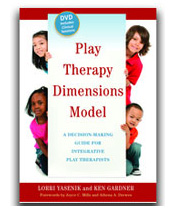 Based on the Play Therapy Dimensions Model, participants learn how to conceptualize the play therapy process from an integrative perspective. To further consolidate these skills each participant presents a case for group discussion (1/2 hour presentation), based on an integrative conceptualization approach.
Program Goals
The goals of this program are to:
Expand assessment and treatment-planning skills as applied to a range of special populations (abuse/trauma; children of divorce; anxiety; depression; ASD, etc.)
Increase competence in the use of various play therapy modalities
Gain practical skills as a practitioner in play therapy.
Note: Students are to submit a detailed case study to facilitate integration of course material. Students will have three months to complete the required written assignment.
Cost
$2250.00 plus GST (550.00 deposit). For full details please refer to the application form. To access program dates see the training calendar.
Who Should Attend?
The Red Stream Advanced Theory and Techniques in Play Therapy program will be of interest to licensed mental health practitioners who are currently working with children in a treatment-oriented setting. Those currently enrolled in graduate mental health programs may also use this program as a way to build on their current professional designations.
As an advanced training course this program will enhance you ability to market a specialization as well as prepare you for certification/registration as a Play Therapist.
Entrance Requirements:
Attending or completed graduate mental health degree program
Completion of the Foundations of Play Therapy Program (or equivalent).
It is recommended that participants have a background in child development and are actively working with children in a treatment-oriented setting.
Assigned Text Books:
Play therapy dimensions model: A decision-making guide for integrative play therapists (Yasenik & Gardner, 2012 – 2nd edition; Jessica Kingsley Publishers, London).
International Handbook of Play Therapy: Advances in Assessment, Theory, Research and Practice. Edited by C. Schaefer (2005) J. Aronson, Publisher. *(Main text for online component)
Location of Training: Customized training is held at your agency site or at the Rocky Mountain Play Therapy Institute in Calgary, Alberta Canada.
PROGRAM OUTLINE
Pre-course:
On Line Component (12 non-contact hours)
Use of the PTDM in clinical work & supervision
Use of the Client Moderating Factors Form in your practice
Use of the Immersion/Therapist Self-Evaluation Scale
Use of the PTDM Tracking and Observation Form
Practical exercises using case examples
Special topics- ASD; trauma; Erika method; EPR
There is a mastery test to complete at the end of the on-line section to demonstrate understanding or core concepts. Participants will also answer specific questions based on the assigned textbooks.
Day 1: Advanced Treatment Planning using the Play Therapy Dimensions Model 
Course introduction
Understanding the Dimensions of Directiveness & Consciousness
Consciousness: from Depth Psychology to Post-Modern thought
Group activity: The 2 Dimensions
Case Conceptualization using the PTDM
Experiential learning activity: Case conceptualization of a referral case/family (divorce/step family); introducing the therapy process, parent consultation a feedback.
Personal process journal
Homework readings: Filial Therapy & Theraplay
Day 2: Attachment: Play-based interventions & approaches
Review of readings
Attachment theory
Attachment behavior & classification systems
Shore's theory of co-regulation and the psychobiology of attachment
Experiential learning activities: Co-regulation of affect & meaning
Attachment in Middle Childhood
The Filial Therapy Approach: CPRT model
Day 3: Attachment: Play-based interventions & approaches – Part II: Spontaneous Creative Interventions in Play Therapy
Theraplay Approach
Considering adult attachment organization when working with children and caregivers
Brightening the Relationship: An intervention model for vitalizing attunement
Case illustration: case conceptualization & intervention strategies
An introduction to expressive & creative art interventions
Video & case examples
Working intermodally – moving art into play and play into art
Experiential expressive/art activities
A framework for interpretations
Structuring the process: Turning structured games and activities into unstructured, non-directive/expressive activities
Working with "anger": Using children's creativity in play sessions
Therapeutic Games: Case conceptualization skills: Role play experience; making a therapeutic game
Homework reading: Family Play Therapy
Day 4: Family Play Therapy
Defining Family Play Therapy
Experiential activity: Family Play Genogram
Rationales & goals of FPT
Phases of FPT
Guidelines for observation & assessment
Important elements and phases of brief Family Play Therapy
Preparing the family members for play sessions
Family Play Assessment
Providing feedback to parents
Video examples
Role play activity – working with the "Smith's"; use of observation skills to modify specific interventions (puppets; sandplay; art making; games)
Homework reading: Group Play Therapy
Day 5: Group Play Therapy
Review of homework reading
Rationales for Group Play Therapy
Directive and Non-directive play therapy groups
Group design and process
Power of group dynamics
Role play activities- building cohesiveness
Caregiver roles
Leadership styles & roles
Monitoring progress
Case example
Ethical considerations
Day 6: Facilitative Play Approaches with Autism Spectrum Disorders
Examining PDD and ASD from a play-based perspective
DIR & the Floortime Approach- video examples
Functional emotional milestones – case conceptualization & video examples
Experiential learning activities: Facilitative play strategies
Including parents as agents of change
Goal setting and tracking progress
Day 7: Advanced Sandplay
Understanding sandplay theories and the therapy process \
Use of sandplay therapy with children; what to expect at different developmental stages
Experiential exercises: static and dynamic sandtrays
Using sandplay with specific referral issues: trauma, divorce, adjustment issues
Special considerations when working with siblings or families
Homework reading: Catharsis
Day 8: Working with Highly Aggressive Children
Pathways to aggressive and disruptive behaviors
Coercive parenting
Subtypes of aggression
Strategies for self-regulation
Experiential learning/discussion activity- Catharsis
Working with anger – Video examples (V. Oaklander)
How play therapy fits within a multi-modal treatment approach
Intervention strategies & techniques
Aggressive behaviors in the play room
Moving along a continuum of interventions; decision-making factors
Experiential activity: "Working with my anger"
Homework reading: Anxiety
Day 9: Working with Anxious or Depressed Children; Ethics and Play Therapy
Identifying internalizing problems through children's play
Examining risk and protective factors
Enhancing resiliency factors (taking an assets approach)
Attributional styles
Considerations for treatment planning: goals setting in areas such as coping skills and self-esteem
Understanding fears & phobias: case illustrations
Childhood depression
Specific play-based techniques for the depressed child (e.g., therapeutic storytelling, psychodrama, music & movement)
Understanding the therapeutic contract: Who is the client?
The Play Therapist as Expert Witness (video example)
Examining best-practices and competency issues
Tips for safeguarding your practice
Therapist safe-care and self-evaluation
Ethical supervision
Advance group discussion: ethical dilemmas
Learning Objectives
To provide participants with an opportunity to consolidate skills an integrative play therapy practitioner, utilizing a range theory and techniques as applied to specific referral issues and populations. Upon successful completion each participant will have gained:
An understanding of how to utilize family play therapy strategies
An ability to identify the sandplay process and applications of sandplay therapy to working with children at different developmental stages
An awareness of play-based behaviors exhibited in children with internalizing difficulties and an understanding of specific intervention strategies
An advanced understanding of ethical and legal issues for play therapy practitioners
An ability to engage and work with children with disruptive and aggressive behaviors
An understanding of play-based approaches for enhancing attachment
An understanding of the play therapy process and the role of the play therapist
An ability to set up play therapy groups and tailor interventions for specific referral issues
An ability to make use of the intuitive self
An awareness of the competencies required for setting up an effective play therapy practice
Instructional Methods
Experiential activities
Video presentations
Case examples
Role plays
Session seminars
Reading assignments
Case presentation & written conceptualization exercise
Small group activities
Certificate Award
Participants will receive a Certificate in Advanced Theory and Techniques in Play Therapy from RMPTI. The certificate confirms the completion of 75 hours of specialized play therapy training approved by APT and CAPT. Training hours can be used toward registration/certification as Play Therapist. APT and CAPT alone hold the right to accept or deny any continuing education training at their discretion.
The Certificate is awarded on the basis of:
Satisfactory completion of a the Mastery Test and written case study
Continuous evaluation by instructor of course work contributions and core competencies using a structured feedback form
Satisfactory attendance (no whole module may be missed unless there are extenuating circumstances. A makeup assignment may be requested depending on time missed)
How can I apply these skills?
Participants will be able to work with a range of presenting issues utilizing multiple play therapy techniques in an integrated manner.
Participants will have the ability to work with children individually, in groups, and in a family setting.
Upon completion of the program participants will be able to develop detailed case plans and tailor interventions to specific populations.